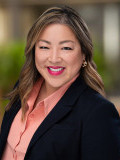 Erin Huppert
Vice President of Advocacy
Erin Huppert serves as the LeadingAge Minnesota as the Vice President of Advocacy. She leads public policy and advocacy strategies on behalf of the organization and its members.
Prior to joining the organization, Erin served as the director of state external affairs and partnerships with USofCare, a national nonprofit that aims to expand access to affordable health care. She also worked for several years in state and federal government relations at Allina Health and held legislative staff roles with the Minnesota House of Representatives.
When she is not working, Erin is proud to serve on the board of Twin Cities in Motion and can often be found hiking and running in our great trails and parks systems.