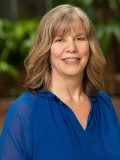 Julie Apold
Vice President of Quality and Performance Excellence
As Vice President of Quality & Performance Excellence, Julie develops effective strategies to help our members develop and implement quality improvement and measurement programs in all of their settings. Julie also manages our Performance Excellence in Aging Services program, provides policy support on the state and federal level, and serves as lead staff for the Quality & Performance Excellence Committee.

Julie has deep roots in quality and performance improvement, having served for more than 10 years as the Senior Director of Patient Safety and Quality at the Minnesota Hospital Association. She has also served as the Quality Measurement Program Manager at the Minnesota Health Data Institute; Quality Improvement Manager at Medica; and, prior to joining LeadingAge Minnesota, as the Senior Regional Program Manager at the Center for Palliative and Supportive Care at Optum.

Julie is a Doctoral Student at the University of Minnesota and has a Master's Degree in Clinical Psychology.