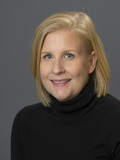 Kari Thurlow
Senior Vice President of Advocacy
Kari Thurlow is the Vice President of Advocacy for LeadingAge Minnesota. Since 2006, she has led the Association's advocacy efforts on both state and federal issues and with external audiences.
With over a decade of experience in public affairs, Kari came to Aging Services with a strong background in law and public policy. Most recently, Kari worked for several years at Flaherty & Hood, P.A., where she had the opportunity to provide legislative representation to clients on a variety of issues including bonding, property taxes, environmental and land use.
Kari holds a J.D. from Hamline University School of Law and a B.A. in political science and communications from Concordia College.