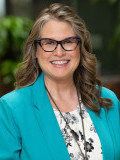 Kathy Palmer
Executive Assistant
Kathy joined LeadingAge Minnesota in September 2020. She came to us after working with organizations such as General Electric, General Mills and Great River Energy.
At LeadingAge Minnesota, Kathy directly supports Kari Thurlow, President & CEO. She also assists LeadingAge Minnesota Boards and Board appointed Committees.
Kathy holds a Bachelors of Science in Business Adminstration and Marketing.
In her free time Kathy enjoys visiting National and State Parks, bird watching, identifying Minnesota native wildflowers, game nights and Karaoke.