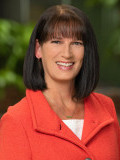 Lori Meyer
Senior Vice President and Chief Operating Officer
Lori has been with LeadingAge Minnesota since 1999, currently serving as Senior Vice President and Chief Operating Officer. Her role at LeadingAge Minnesota includes:

• Organizational management and operations;
• Strategic planning;
• Development of education programs;
• Strategic partnerships;
• Legislative and administrative advocacy; and
• Member product and service development.

In addition, Lori advances the work of the LeadingAge Minnesota Foundation including philanthropic partnerships, fundraising, leadership and workforce development, service delivery transformation and the Foundation's Annual Scholarship Program.

Prior to joining LeadingAge Minnesota, Ms. Meyer was Director of Legislative Advocacy and Minnesota Policy with the Evangelical Lutheran Good Samaritan Society where her role included lobbying on state and national issues, regulatory compliance and finance. She has also held positions with the Minnesota State Senate and the law firm of Opperman, Heins and Paquin. Lori holds a B.A. in Political Science from the University of Minnesota.