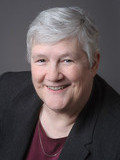 Terri Foley
Program Officer - LeadingAge Minnesota Foundation
As Program Officer for the LeadingAge Minnesota Foundation, Terri Foley is advancing the work of the Workforce Solutions Grant Program and the Silos to Circles Rural Pilots Implementation. She oversees all aspects of our grant making program, and seeks additional opportunities for the LeadingAge Minnesota Foundation to serve as intermediary for other foundations.

Terri brings with her a wealth of experience in both the aging services and grant making sectors. Most recently, she served as Director of Strategic Initiatives for DARTS, where she led a 35+ person team and managed eight programs that serve more than 2,000 older adults each year.

Terri's passion for helping older adults has led to a rich network of relationships within the aging services community, and she draws on her publishing experience to help the LeadingAge Minnesota Foundation tell its story and the story of our grantees.