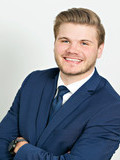 Vinny Strack
Vinny Strack
Vinny joined LeadingAge Minnesota in March of 2018.
He is primarily responsible for coordinating the logistics of committee meetings and providing administrative support to fellow staff members. Along with these assigned roles, Vinny provides insight into the realm of technology.
Vinny is fresh out of college; holding a B.S. in Business Administration and a Minor in Enterprise Technology from the University of Wisconsin—Stout.