Value First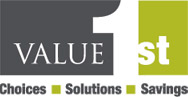 Value First Advantage
Value First draws on the rich heritage of organizations that focus on the quality of life for the aging. We tap the power of the community of LeadingAge, build on the success of collaboration with HPSI Purchasing Services and bring new value to customers and their trusted state associations. Value First is a bigger, bolder shared group purchasing benefit that brings expanded choice, intelligent solutions and significant savings to its customers.
Value First's powerful difference is that LeadingAge affiliates are now shareholders in this business model.
State & Regional Affiliates
Value First partners with state and regional affiliates who share a common focus on pursuing excellence in serving older adults.
Value First is owned by LeadingAge and its following state association affiliates:
LeadingAge California
LeadingAge Connecticut
LeadingAge Florida
LeadingAge Georgia
LeadingAge Gulf States
Life Services Network of Illinois
LeadingAge Indiana
LeadingAge Kansas
LeadingAge Kentucky
LeadingAge
LeadingAge Massachusetts
LeadingAge Michigan
LeadingAge Minnesota
LeadingAge Missouri
LeadingAge North Carolina
LeadingAge New Jersey
LeadingAge New York
LeadingAge Ohio
LeadingAge Oklahoma
LeadingAge Oregon
LeadingAge PA
LeadingAge South Carolina
LeadingAge Tennessee
LeadingAge Texas
LeadingAge Wisconsin
The administrative activities of Value First are carried out by Aging Services Group, Inc., a subsidiary of LeadingAge Minnesota.
The negotiation of vendor contracts is primarily administered by HSPI Purchasing Services.
The activities of Value First are overseen by a board of directors. Kari Thurlow, President and CEO of LeadingAge Minnesota is a charter member of the Value First board.
FTC Endorsement Guidelines
LeadingAge Minnesota is an owner of Value First, and may also receive fees for promotional services for providing information regarding Value First to LeadingAge Minnesota members.