Code of Ethics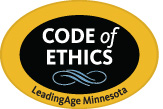 Providers that have adopted the LeadingAge Minnesota Housing-with-Services Code of Ethics strive to create a culture of mutual respect, understanding and trust with the people they serve and those who support them.
They pledge and commit to:
Fairness, honesty, and confidentiality.
Open communication and encouragement of self-expression in order to continually improve our services.
Nurture choice through disclosure of vital information to enable the people we serve to make informed decisions about the level of care - and corresponding level of risk - they desire.
In addition, the Code of Ethics commitment is to:
Develop a well-trained, competent staff and prudently manage (name of organization)'s resources to provide quality housing and services and to comply with applicable laws and regulations.
Provide innovative and supportive housing in a well-maintained setting that reflects the values of our community.
Help the people we serve to obtain services to maximize their desired level of independence, autonomy and dignity.
Identify internal as well as community resources to assist them with life's transitions.
Foster community and commit to... acknowledge and respect each person we serve as a reflection of his or her own culture, life experiences, habits and decisions.
Partner with the people we serve and those who support them - their family and community, and members of our organization; and
Demonstrate good citizenship and create opportunities for mutually beneficial activities with the greater community.
Click here for a list of those providers that have adopted the Code of Ethics.