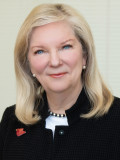 Gayle Kvenvold
President/CEO
Gayle M. Kvenvold is President and Chief Executive Officer of LeadingAge Minnesota and has held this post since 1989.
LeadingAge Minnesota is the state's largest association of senior living organizations. Under Kvenvold's leadership, LeadingAge Minnesota has broadened its base of membership to encompass an ever-evolving spectrum of residential and home-based services for older people and has focused the organization on advancing change in older adult service delivery and financing models.
LeadingAge Minnesota encompasses more than 1,200 organizations engaged in the delivery of services to older adults in nearly 900 Minnesota communities. Its members employ more than 50,000 caregivers throughout the state and serve more than 100,000 seniors each year in settings ranging from their own home to congregate housing to assisted living to care centers/transitional care.
LeadingAge Minnesota members are diverse, but share a common focus on person-directed living, missions of service to their communities, quality, innovation and consumer choice. LeadingAge Minnesota is a state partner of LeadingAge and the state affiliate of Argentum.
Kvenvold is a past co-chair and active member of the Minnesota Leadership Council on Aging, a past president of the Minnesota Gerontological Society and has served on numerous community boards, including the Steering Committee and Leadership Council of Minnesota's Act on Alzheimer's initiative. She currently also serves on the state's Own Your Future Advisory Council, a group dedicated to helping Minnesotan's plan and pay for their future long-term care needs and is the current chair of the Minnesota Alliance for Patient Safety.
She is also a frequent lecturer for state and national audiences on long-term care issues, and has four times been selected by Minnesota Physician as one of Minnesota's 100 most influential health care leaders. In 2009, Kvenvold was awarded the Dutch Kastenbaum Outstanding Gerontologist Award by the Minnesota Gerontological Society; in 2010, she was awarded the University of Minnesota School of Public Health Community Partners Star Award; and in 2014, she was honored by the Women's Health Leadership TRUST as one of 35 Outstanding Women Leaders in Healthcare in Minnesota. Kvenvold has a Master's Degree in Social Work from the University of Minnesota, Duluth.