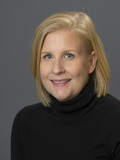 Kari Thurlow
President and Chief Executive Officer
Kari Thurlow is the President and CEO of LeadingAge Minnesota. She took the role at the beginning of 2022 after 15 years leading the Association's advocacy efforts.
Kari came to LeadingAge Minnesota with a strong background in law and public policy. Kari worked for several years at Flaherty & Hood, P.A., where she had the opportunity to provide legislative representation to clients on a variety of issues including bonding, property taxes, environmental and land use.
Kari holds a J.D. from Mitchell Hamline School of Law and a B.A. in political science and communications from Concordia College.