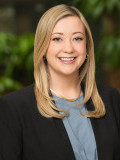 Anna Mowry
Director of Workforce Solutions
How I help LeadingAge Minnesota members: Recruitment, retention, and other workforce issues are my focus areas. I also manage our OnTrack nursing assistant training program and our jobs board, AgingServicesJobs.org.
What I enjoy about LeadingAge Minnesota: My background in human resources helps me understand members' workforce challenges at a detailed level. I love developing partnerships to produce new solutions and encourage more people to join our profession.
More about me: I enjoy perfecting my fly fishing technique and cooking my food favorites from my travel adventures.