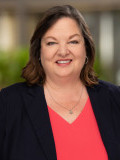 Barbara Landeen
Senior Director of Leadership and Member Experience
How I help LeadingAge Minnesota members: I help develop emerging leaders through our Leadership Academy and provide resources to boards of directors at member organizations.
What I enjoy about LeadingAge Minnesota: I've served in various roles in LeadingAge Minnesota for more than 20 years. One of my favorite things is to lead our annual awards program called Stars Among Us which recognizes people at member sites that are extraordinary.
More about me: I once received a Best Actress award in high school for my creativity. Today, my starring roles include wife, mom, grandmother, and dog parent.