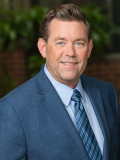 Joe O'Kane
Insurance Advisor
How I help LeadingAge Minnesota members: I can help you when you are evaluating all types of insurance, employee benefits and risk management solutions.
What I enjoy about LeadingAge Minnesota: My goal is to be a trusted resource for members to review insurance policies and offer an informed yet unbiased opinion. It's about identifying the correct coverage at the most competitive rates for your specific situation.
More about me: If you want to talk about fishing, I'm your guy. I spend as much time as possible on the water or ice, depending on the season. My office bulletin board shows off recent catches.