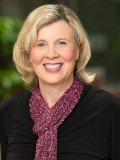 Trish Korsgren
Director of Business Development
How I help LeadingAge Minnesota members: I work with our national group purchasing organization to get great prices for members on good and services.
What I enjoy about LeadingAge Minnesota: Every day, I work with our sales team to help members save money on food, medical supplies, office supplies, and senior-care specific environmental products.
More about me: My two sons are currently in active military service, so my travels now often involve family visits to their bases. My husband and I also enjoy international destinations. When my family was younger, we lived in Berlin, Germany.