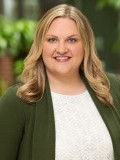 Libbie Chapuran
Director of Communications
Libbie Chapuran joined LeadingAge Minnesota in November 2016 to lead our grassroots advocacy efforts at the State Capitol.
Before joining LeadingAge Minnesota, Libbie worked in Houston, Texas as a public affairs professional managing political action committees and government relations efforts for a number of clients.
Prior to her work in Houston, Libbie worked at the Minnesota State Senate in a variety of roles. She served as communications specialist, a committee assistant for the Agricultural and Rural Economies Committee, and a legislative assistant for a number of legislators.
Libbie has degrees in political science and communications from the University of Wisconsin – Madison.