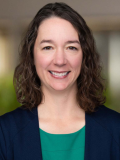 Sharon Hollister
Director of Education
How I help LeadingAge Minnesota members: I can answer questions about our current education offerings. Members can also contact me about topics and presenters they would like to see offered in the future.
What I enjoy about LeadingAge Minnesota: I am committed to supporting life-long learning. Our team is dedicated to providing professional development and training opportunities to help you continue delivering high-quality care.
More about me: Outside of work, I try to enjoy Minnesota's many seasons with my friends and family.