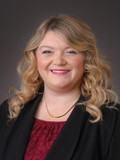 Ashley Rogers
Education Coordinator
Ashley Rogers, Education Coordinator
Ashley Rogers joined LeadingAge Minnesota in September of 2016.
She provides member support for registration, webinars and education programs. Ashley brings experience in writing, developing and teaching education programs. She has six years' direct care experience as a supervisor in adult day services and as a therapeutic recreation specialist in memory care.
Ashley holds a B.S in Special Education from St. Cloud State University. In her free time, she enjoys being a Special Olympics Coach year-round and spending time with her family and friends.