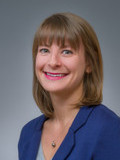 Jenna Kellerman
Director of Workforce Solutions
As Director of Workforce Solutions, Jenna is leading the work of our Health Support Specialist and Online Nursing Assistant program as well as advancing our strategic efforts around the recruitment, retention and development of an aging services workforce.

Jenna brings with her a deep passion for our workforce solutions efforts and an applied understanding of what is most needed by providers at the community level to effectively manage the challenging recruitment, selection, training and staff retention process. Prior to joining LeadingAge Minnesota, she served as Director of Housing at Cerenity Senior Care – Marian of St. Paul, and as an Adjunct Instructor at Bethel University's gerontology department. She has experience in operations, management, public relations, communications/writing, and marketing.

Jenna holds a Master's degree in Gerontology from Bethel University.