Savings & Solutions Center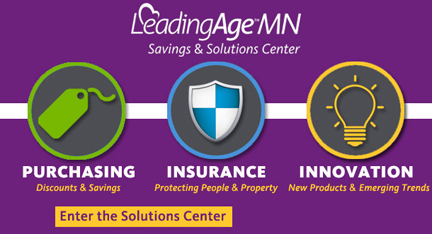 In partnership with contracted vendors, the Savings & Solutions Center assists LeadingAge Minnesota members and others in the fulfillment of their organizational purposes by providing access to product and service solutions at competitive contract pricing.
We understand the challenges you face as a provider. The Savings & Solutions Center brings you discounts on the best product and service solutions from the leading manufacturers and service providers in health care today.
We now offer two options for group purchasing. Value First – a strategic partnership with the national buying power of MedAssets and LeadingAge, and Alliance Purchasing – focused on regional contracts with those providers you know and trust.
Both of these programs are dedicated to serving members in the best way possible – Saving you Money! We leverage our purchasing power to provide product and service solutions at competitive contract pricing.
You may purchase from either, or both - this is a free member benefit.
LeadingAge Minnesota Insurance Solutions offers a full portfolio of insurance products and risk management services to protect your people and your property. Through our strategic partnerships with VAALER and USI Hanratty, we bring you the best in property and casualty coverage, worker's compensation, liability coverage, employee benefits, wellness programs and more.
Innovation is enormously important -- it's the only guarantee of long-term business viability. But innovation doesn't always mean new products. Often innovation is the result of improving and expanding existing strategies.
At the Savings & Solutions Center, we combine our contract negotiation expertise from Alliance Purchasing and our dedication to building relationships with emerging product and service providers. This creates a commitment to find innovative products and programs that can make a difference for you and the seniors you serve.