Rising Positivity Rates Means More Testing for Care Centers
On April 21, 2021 by Jeff Bostic
After rising to very high levels in late 2020, positivity rates of COVID-19 tests in Minnesota dropped dramatically in early 2021. In addition to providing a welcome drop in cases in long-term care settings, it also meant a reduced testing burden in care centers where a federal mandate ties surveillance testing frequency to the county positivity rate.
Unfortunately, while long-term cases remain relatively low due to vaccination efforts, case rates in the community have climbed dramatically again. The maps below illustrate that increase using CMS test positivity data from January and April: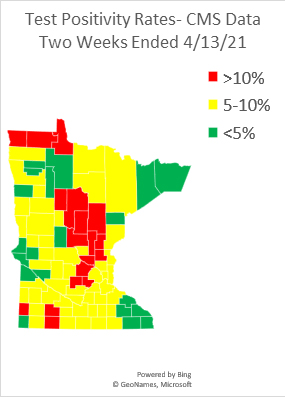 More than half of counties are in yellow status in the most recent data, and almost a quarter are red. In care centers, yellow counties have to conduct staff testing once a week, and red counties have to test twice a week. Vaccinated staff are not exempt from the mandate, so testing fatigue will be an issue where case rates are high.
The mounting cost of regular testing is also an issue, particularly with the federal provider relief fund (PRF) not releasing any funds since 2020. LeadingAge continues to advocate for more funding, which would help address some of the testing costs. With vaccination now available to the general population, that should also bring the rising case counts down over the coming weeks and months.
Comments
Add a comment