Safe Care for Seniors Action Honor Roll Announced
On February 18, 2020 by Jodi Boyne
Fifty-one LeadingAge Minnesota members have been named to the Safe Care for Seniors Action Honor Roll. The Action Honor Roll recognizes aging services providers who have made the Safe Care for Seniors pledge and demonstrated action and outcomes in prevention, safety, respect, learning and improvement, and collaboration.
"Safe Care for Seniors is a new way of thinking and taking action to prevent the risk of harm that can occur in the course of caregiving," said Gayle Kvenvold, President & CEO, LeadingAge Minnesota. "These 51 providers are modeling the Safe Care for Seniors pledge in ensuring the older adults they serve are safe from harm and that all who live and work in their settings are treated with respect and dignity."
Safe Care for Seniors is a comprehensive safety and quality improvement program focused on prevention. The program, created by LeadingAge Minnesota in 2019, begins with a commitment pledge to safety, respect and dignity. It is then followed by implementation of a five-step action plan that includes leadership accountability, designated safety champions, identifying and addressing improvement opportunities, enhanced transparency, communication and collaboration with residents and families, and an ongoing commitment to report, learn and improve from near miss events or when something unexpected happens.
More than 450 aging services providers have made the Safe Care for Seniors Pledge. The Action Honor Roll recognizes the first 51 providers to complete the intensive five-step action plan. LeadingAge Minnesota will recognize providers who complete the plan on a quarterly basis.
"Through Safe Care for Seniors, our members are improving the quality of care and services they provide, empowering staff to respond appropriately in difficult or unexpected situations, and enhancing relationships with the older adults and families they serve - all of which contribute to safe, inclusive and trusted environments that provide a high quality of life."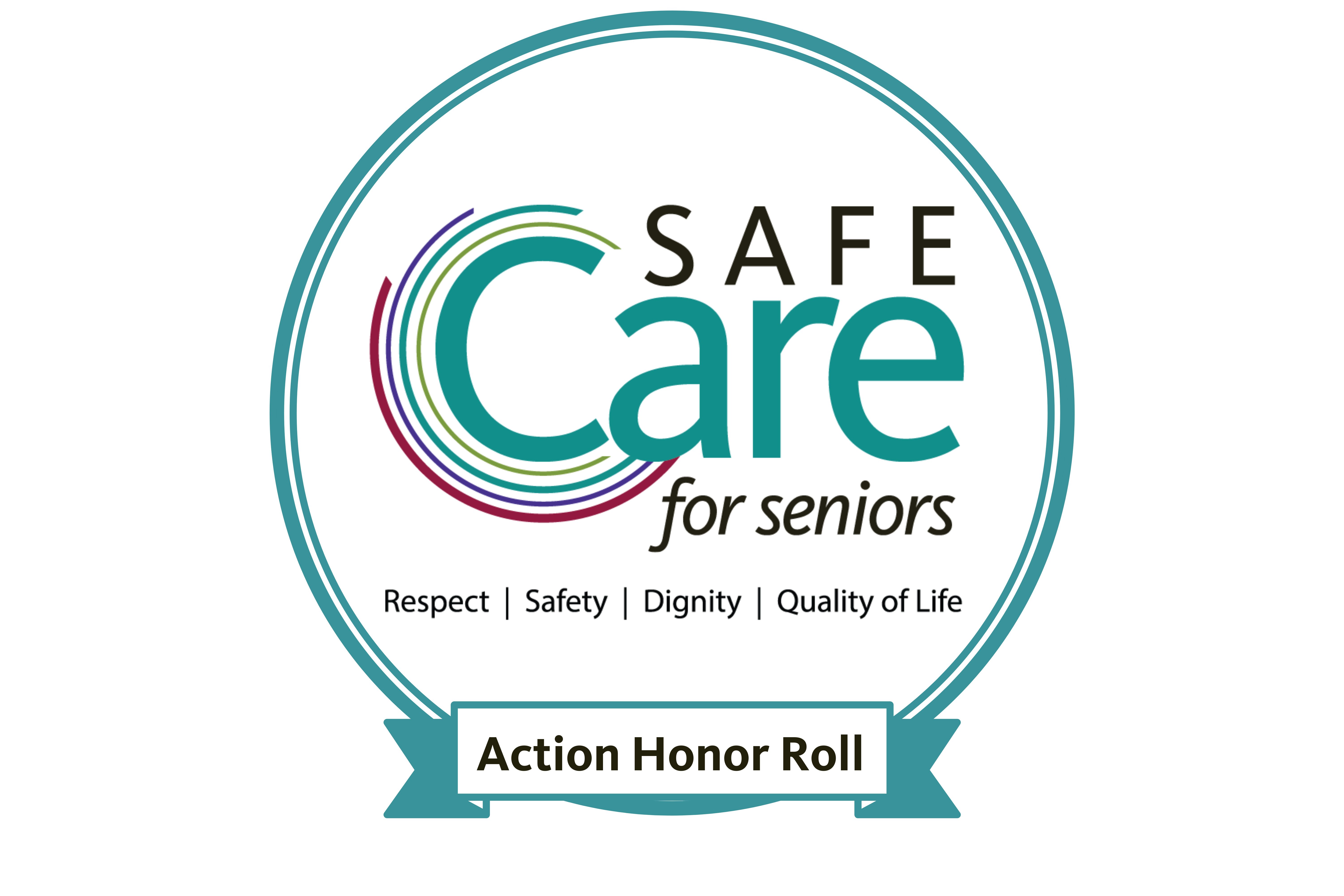 Augustana Care Health Rehabilitation - Moose Lake
Augustana Regent - Burnsville
Benedictine Living Community of Duluth
Buffalo Lake Health Care Center -Buffalo Lake
Clara City Care Center - Clara City
Cuyuna Regional Medical Center Care Center - Cuyuna
Ecumen Detroit Lakes - Detroit Lakes
Ecumen Lakeshore - Duluth
Ecumen Meadows - Worthington
Ecumen Oaks - Hutchinson
Ecumen Pines - Hutchinson
Ecumen of Litchfield
Ecumen Pathstone Living Care Center - Mankato
Ecumen Prairie Hill - St. Peter
Ecumen Sand Prairie - St. Peter
Ecumen Seasons - Apple Valley
Elim Care and Rehab Center - Princeton
Field Crest Care Center - Hayfield
Franciscan Sisters of Little Falls
Grand Meadows Senior Living - Glencoe
Grand Village – Grand Rapids
Granite Falls Health Care Center – Granite Falls
Heritage Manor - Chisholm
Jones-Harrison Assisted Living - Minneapolis
Knute Nelson - Alexandria
Lakeview Methodist Health Care Center - Fairmont
LB Homes – Fergus Falls
Majestic Pines Senior Living – Grand Rapids
Minnesota Veterans Home – Luverne
Minnesota Veterans Home – Minneapolis
North Shore Care Center - Grand Marais
Prairie Senior Cottages of Albert Lea
Prairie Senior Cottages of Alexandria
Prairie Senior Cottages of Hutchinson
Prairie Senior Cottages of Isanti
Prairie Senior Cottages of New Richland
Prairie Senior Cottages of New Ulm
River Grand Senior Living – Grand Rapids
Saint Therese of New Hope Care Center
Saint Therese of New Hope Residence
Saint Therese of Woodbury
Scandi Haven Village - Benson
Spring Valley Care Center – Spring Valley
Sunnyside Care Center – Lake Park
The Glenn Minnetonka
The Harbor at Peace Village – Norwood Young America
The Haven at Peace Village – Norwood Young America
The Pines - Richfield
Three Links - Northfield
Vista Prairie at Copperleaf - Willmar
Walker Methodist – Minneapolis
Comments
Add a comment