LeadingAge Minnesota Foundation Invests $400,000 in 24 Workforce Grants
Posted on December 1, 2022 by Terri Foley
Totaling $400,000, 24 workforce grants were awarded to LeadingAge Minnesota members across the state by the LeadingAge Minnesota Foundation this week. The grant program funds staff appreciation, OnTrack Nursing Assistant Training program set-up expenses, and initiatives to improve recruitment, retention, and talent pipeline development.
Examples of funded projects include:
Offering free language training through Rosetta Stone, featuring 24 languages, including English, to strengthen communication between staff members and residents.
Partnering with a local shoe store to purchase quality, comfortable shoes and engaging orthotist to assist staff with proper shoe fit for support and comfort.
Purchasing a fingerprinting system that meets Department of Human Services (DHS) requirements to expedite the start date for new hires.
Establishing OnTrack CNA training programs to eliminate traditional barriers and delays in CNA certification through OnTrack's on-demand curriculum and new hire check-ins to track adjustment to their new workplace.
Creating a Caritas Room ("quiet space") for staff to use self-care healing practices, including a massage chair.
Providing emergency financial assistance for unexpected expenses causing personal hardship for staff.
Rewarding staff with free Uber transportation connected to a mobile scheduling tool.
From an impact perspective, more than 4,000 staff people will benefit from this grant funding. Awardee staff populations ranged from a team of 11 and an average of about 150 people per grantee to three large multi-site organizations with more than 500 staff.
The grant award selection was made by an 11-member independent review panel of workforce and long-term care experts. They evaluated 201 grant applications to determine which projects to fund.
The LeadingAge Minnesota Foundation will be sharing best practices and lessons learned from these projects with all members as results are available.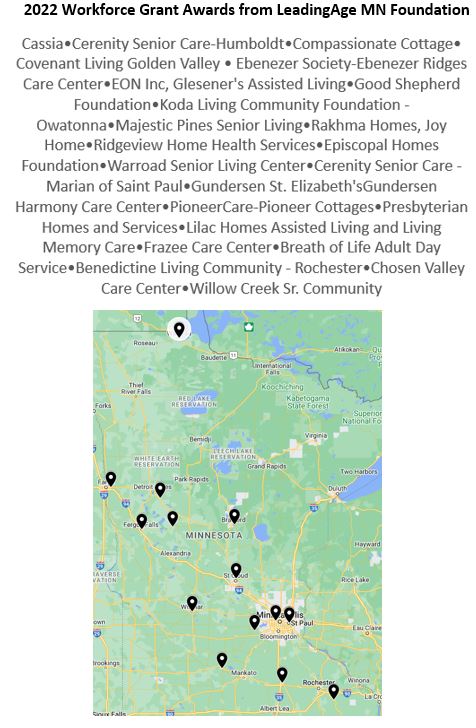 Comments
Add a comment