Sue Kiel, Dietary Cook at North Share Health, Makes Zero Harm Possible
On January 12, 2020 by Jodi Boyne
Sue Kiel truly embodies the mission of providing community access to compassionate care each day in her work and is a tremendous team member who all who live and work at North Shore Health in Grand Marais. For her commitment to safety, respect and dignity, Sue Kiel is the most recent recipient of the Make Zero Harm Possible award from LeadingAge Minnesota.
As a dietary cook, Kiel excels at ensuring nutritious meals for residents and patients at North Shore Health. Her attention to the individual needs of residents and her compassion for all she serves elevated Kiel to receive this distinguished award.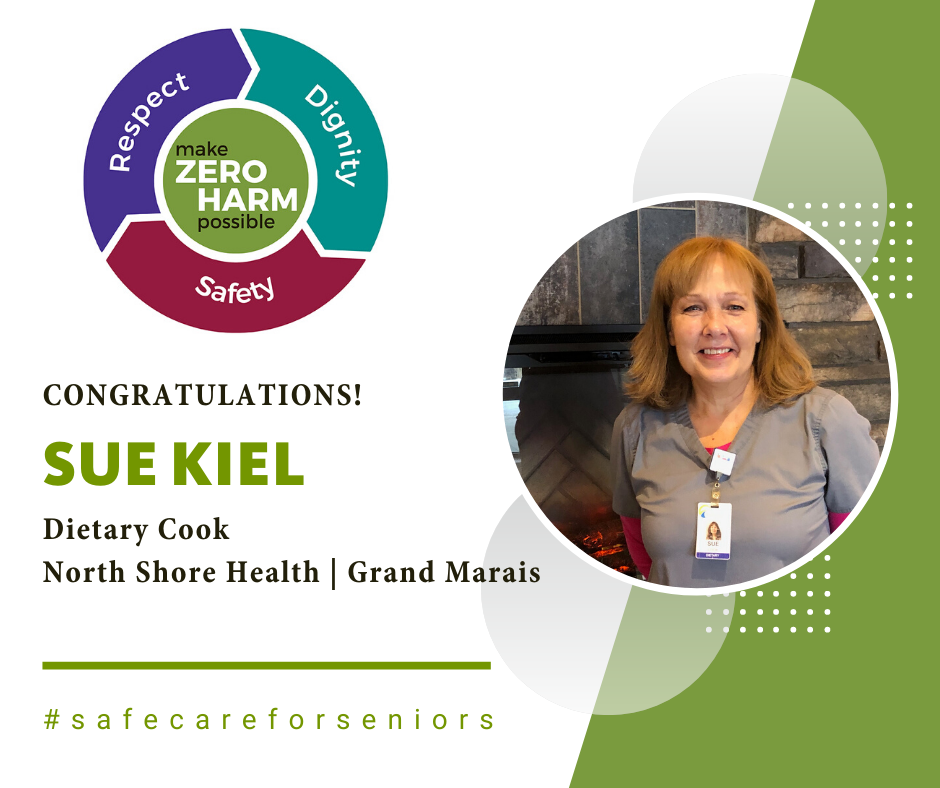 Kiel goes above and beyond every day by visiting with all the residents before serving meals to make sure they are comfortable and care for. She is in tune with their needs, often seeing changes in some residents that others may not notice and brings it to the attention of the nursing staff. Kiel also prepares special meals and desserts for the residents at North Shore Health to help them feel more at home.
The Make Zero Harm Possible award is one component of LeadingAge Minnesota's Safe Care for Seniors initiative, a comprehensive safety and quality improvement program. To see who has received the Make Zero Mar Possible award or to nominate someone, visit Make Zero Harm Possible.
Comments
Add a comment