Resident and Family Satisfaction Surveys to Inform Assisted Living Report Card
Posted on September 28, 2022 by Bobbie Guidry
In partnership with Vital Research, the Minnesota Department of Human Services (DHS) and the Minnesota Board on Aging are preparing for data collection for the Assisted Living Report Card. Assisted living directors will be informed by letter of the plans for this year's statewide assisted living resident quality of life and family satisfaction surveys in early October.
Only assisted living settings with a capacity to serve 20 or more residents will be included in this year's surveys. Next week, DHS will send this letter to the directors of each facility, anticipating the letters arriving between Oct. 3 and Oct. 7.
Minnesota has contracted with Vital Research, an independent research firm, to conduct these surveys. Annual resident and family surveys in Minnesota nursing facilities will occur in the same period and will also be led by Vital Research. If your assisted living community is affiliated with a nursing facility, efforts will be made to coordinate survey activities between the different settings.
The survey results will be used to determine star ratings and quality measure scores for your assisted living community which will be shared on a public Assisted Living Report Card website, which is not yet launched. In addition to the public ratings, assisted living communities that achieve a minimum number of survey responses, as determined by the DHS Institutional Review Board, will receive an individualized report with their survey results and some points of reference to compare their results to statewide results. The state will also share a statewide summary of the survey results through a public report.
Resident surveys will be conducted through in-person interviews and family satisfaction surveys by mail or online. Vital Research will use resident census and resident representative contact lists provided by assisted living communities to create its interview and mailing lists. Assisted living facilities are asked to update key resident representatives' addresses and phone numbers to ensure timely connections.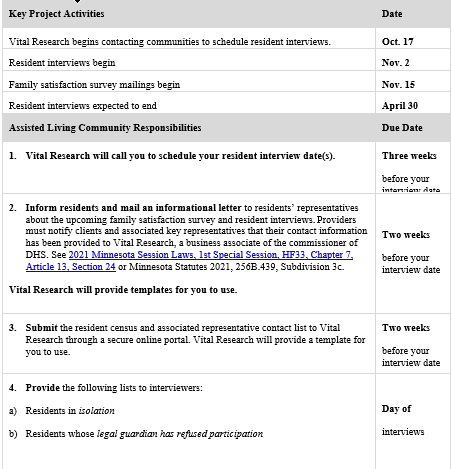 Assisted living directors will send Vital Research their entire list of facility residents. Referencing the list, trained interviewers invite residents to participate in the survey. Vital Research determines resident participation unless residents are in isolation or their guardian refuses on their behalf. In larger assisted living communities, interviewers invite a random sample of residents to participate. Researchers designed the survey for assisted living residents, including those with dementia and memory loss. Interviewers will discontinue an interview with a person with dementia and memory loss based on a specific interview protocol. Additionally, Vital Research requires interviewers to be fully vaccinated against COVID-19 and follow protocols to mitigate the risk of spreading infectious diseases.
Vital Research staff will provide more information when they contact your community for scheduling. Please direct questions to Marissa Hughes, Research Manager, at (213) 328-6372 or mhughes@vitalresearch.com. You may also view resident census and representative contact list submission instructions, sample outreach materials you may use for your residents, families, and staff, Frequently Asked Questions, and detailed infectious disease safety plans at vitalresearch.com/mnsurvey2022.
Comments
Add a comment